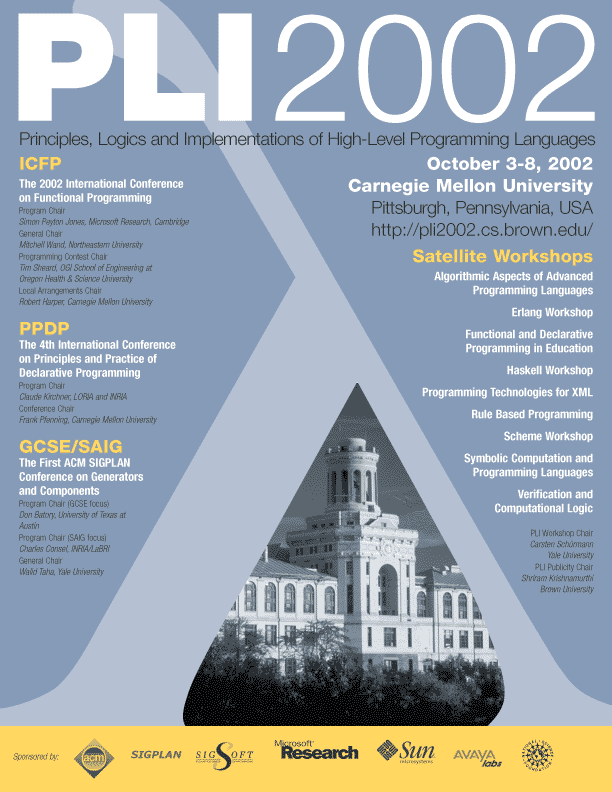 Functional and Declarative Programming in Education (FDPE02)
A one day workshop at PLI'02, Monday 7 October 2002
---
---
Goal:
Functional and declarative programming plays an increasingly important role in computing education at all levels. The aim of this workshop is to bring together educators and others who are interested in exchanging ideas on how to use a functional or declarative programming style in the classroom.
Topics:
The workshop is intended to cover a wide spectrum of functional and declarative programming techniques:
programming courses using traditional functional and declarative programming languages (Haskell, Mathematica, ML, Prolog, Scheme, ...);
programming courses teaching functional programming in commercial languages (e.g. C, C++, or Common LISP);
programming courses teaching functional program design in modern OO languages like Java, Pizza, or GJ;
pedagogic programming environments to support functional and declarative programming;
declarative programming language extensions and implementations with pedagogical relevance;
application courses that benefit heavily from functional and declarative programming (e.g. theorem proving or hardware design).
Furthermore, the workshop will also cover all levels of education:
secondary school;
college and university;
post-college and continuing professional education.
Proceedings
The proceedings will appear as a technical report of University of Kiel and also at the Web site for the workshop. Attendees at the workshop will receive a copy of the proceedings.
Organisers:
Proceedings of FDPE99, the previous workshop in this series, held in Paris, are available here.

---
Last modified 16 September 2002.