csp::common::ReaderProcess< DATA_TYPE > Class Template Reference
Inheritance diagram for csp::common::ReaderProcess< DATA_TYPE >: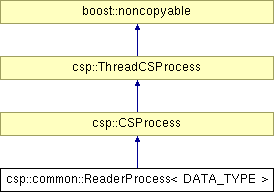 List of all members.
---
Detailed Description
template<typename DATA_TYPE>
class csp::common::ReaderProcess< DATA_TYPE >
Reads values from a channel a specified number of times.

Nothing is done with the values; it is as if they vanish. Therefore this process is only really for absorbing values you don't want from a channel. It is also used for testing C++CSP2.

When the process has completed the specified number of reads, it simply finishes. It does not poison the channel. If you want to poison the channel afterwards, consider using something like this:

To use this process, you will need to include <cppcsp/common/basic.h>

DATA_TYPE must have a default constructor, and must meet the requirements of the channels it is being used with.



Public Member Functions

ReaderProcess (const Chanin< DATA_TYPE > &_in, int _times=1)
Constructs the process.




Protected Member Functions

void
run ()
You must implement this function to provide the code for your process.

---
Constructor & Destructor Documentation
---
Member Function Documentation
---
Generated on Mon Aug 20 12:24:29 2007 for C++CSP2 by

1.4.7