Home | About ITiCSE 2001 | Host |

Welcome to ITiCSE 2001
'And gladly wolde he lerne and gladly teche'
Canterbury has been a centre of learning since the arrival of St. Augustine in AD 597. Just 800 years later Chaucer wrote of a famous band of pilgrims who travelled to Canterbury to fulfil a cherished ambition. Whilst we cannot guarantee you the spiritual benefits of either Augustine or those original pilgrims, we are confident that ITiCSE 2001, here in Canterbury this June, will live up to the famous description of Chaucer's scholar who so wholeheartedly engaged with his profession.
At ITiCSE we come as teachers to learn. We learn not only from those presenting papers, from those involved in working groups and from those giving tutorials but also from - and especially from - the community of our peers and colleagues. Normally we teach students: here we learn from each other.
ITiCSE provides particular opportunities for peer learning with its emphasis on posters and its unique Tips and Techniques sessions. Also, this year, our invited keynotes will speak from their experience of practice: Cindy Atman on our relationship to the broader engineering community, Les Hatton on rigorous software engineering practice, and John Slater on teaching and e-teaching.
We look forward to welcoming you to what promises to be a fine event. We will gladly learn from you all.
Sally Fincher & Bruce Klein,
ITiCSE Conference Co-Chairs
Supported by

Sponsored by

Endorsed by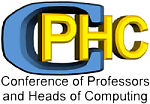 and