Welcome
Firstly, whether you are a new or returning student, welcome to the School. If you'd like to keep up with the School during welcome week and throughout the academic year follow our Facebook and Twitter feeds.
Returning students
Welcome back to our returning students. We hope you have enjoyed your summer and are keen to return. The timetable for week 1 starts at 9.00 on Monday 25 September so please make sure that you are have moved in to your student accomodation by then!
Information about registration and timetables can be found on the Returning to Kent page.
Welcome new students
Welcome week is compulsory for new students (undergraduates, Master's and PhD). You need to attend School events and talks to be ready to start your programme in week 1. Arrivals weekend for new students is 16 and 17 September 2017.
Your welcome week timetables are here.
Welcome week is a series of events for you to meet other students and staff in the University. You will also get information on events, support services and your programme of study. There will be activities put on by the University of Kent, the student unions and the School of Computing.
For new students, there are several things to do before you arrive that will make your first few days at Kent as smooth as possible.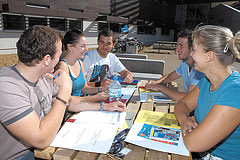 Welcome week tends to run slightly differently for you if you are an international student as not only do you get the central university events but a whole host of other events to provide you with key information you may need about studying in the UK, these events are on a first come first serve basis and should be booked in advance. For more information and a list of events available see Welcome week - International students.
What events are on offer?
Throughout the week a series of events are on offer both centrally from the University, the student unions and from us as a School. You can view your personal welcome week timetable via the student guide. It is important for you to attend these events to learn more about your chosen programme and other aspects of university life.
More information
If you'd like to know more the university has dedicated pages for welcome week at each campus as well as welcome week events for international students. Links to which can be found below.